If you are anything like me then chances are that your ASOS wishlist is longer than your to-do list. My ASOS wishlist is full of things that I would buy 'if only' I had more money, more confidence or bigger boobs. Today I thought I'd share with you what's on my ASOS wishlist so you can get some inspiration for your own wardrobe or perhaps you'd like to buy me something from it, no? That's what I thought.
I feel like shopping in places like ASOS can be sometimes a bit overwhelming, yes it's wonderful that you can choose from thousands of products and hundreds of brands but sometimes you might not know where to even start looking through. That's why I hope that my wishlist can help you find the best pieces for this season including some perfect Christmas party pieces and potential Christmas presents.
Let's kick off this list with these super cute pj's because you can't ever have too many pj's right? They would also make a perfect Christmas gift, for someone who loves staying in bed more than anything.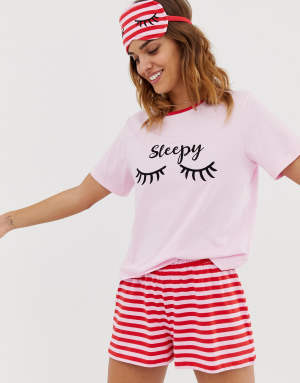 2. ASOS DESIGN Petite sequin cami mini dress £28
Perfect dress to wear for a Christmas party or NYE, without breaking the bank as let's be honest when you have lots of gifts to buy you don't want to spend a fortune on a dress as well. PS go and check out the back detail on it!
3. Lipsy glitter clutch bag in gold £39
Continuing from the gold theme; this little clutch bag would be perfect to wear with a gold sequin dress or for jazzing up a little black dress.
4. Pimkie high neck long sleeve top in green £7.99
Teal turtleneck? It really doesn't get much more trendy than that this season. Style it with a black leather skirt, some black tights and black heeled boots for a trendy and sophisticated look. And for the price of £7.99 it really would be silly not to get it.
5. ASOS DESIGN Petite cord button through mini dress in emerald green £35
Again this piece contains two of the biggest trends, emerald green and cord. This could be styled with a roll neck jumper underneath in black or white, some tights and boots. Or alternatively with a black blazer and black heels for a more glam option.
6. Pimkie crossbody bag in leopard print £16.99
This crossbody bag is this seasons must have, it's so versatile and would go with pretty much everything. Perfect to take with you on a day out when you don't want to carry a big bag.
7. Missguided watch in pink with white satin dial £25
Missguided has released a collection of watches, and I'm loving this pink and rose gold number which might as well have been a high end one. Would make a nice Christmas gift!
8. New Look friends tee in white £12.99
Could this t-shirt BE anymore cool? Got a friend who's a massive Friends fan? Then they would definitely appreciate this as a Christmas present.
9. Lipsy v neck bandage dress in red £65
This simple yet flattering dress would be perfect for a Christmas party or NYE party, as sometimes less is more.
10. Miss Selfridge Petite wide leg trousers in black glitter £32
Love these sparkly wide leg trousers, perfect alternative to a dress.
11. Boohoo basic long sleeve roll neck top in black £8
This basic roll neck is a must have as it can be the base to so many different outfits. You can dress it up with a skirt and boots or go more casual with jeans and trainers.
12. Paperchase Girls support Girls Mug £9
12 seems like a good number to finish on, since it's the festive season I thought I'll finish the list off on this super cute mug which would make a great Christmas gift for your friend, mum, sister, or a secret santa gift since it's under £10.
I hope that you enjoyed looking through my wishlist and got some inspiration for shopping either for yourself or Christmas shopping for others, after spending so much time on ASOS today I definitely feel like getting a few things myself.